My Blog
Posts for: January, 2021
By Hoffmaster Dental
January 17, 2021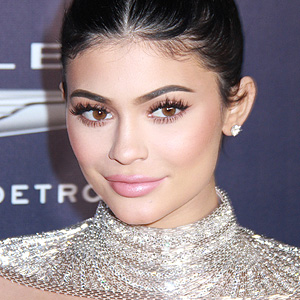 According to Forbes Magazine, Kylie Jenner is the world's youngest billionaire at age 22. Daughter of Caitlyn (Bruce) Jenner and Kris Jenner, Kylie is the founder and owner of the highly successful Kylie Cosmetics, and a rising celebrity in her own right. But even this busy CEO couldn't avoid an experience many young people her age go through each year: having her wisdom teeth removed.
At around 10 million removals each year, wisdom teeth extraction is the most common surgical procedure performed by oral surgeons. Also called the third molars, the wisdom teeth are in the back corners of the jaws, top and bottom. Most people have four of them, but some have more, some have fewer, and some never have any. They're typically the last permanent teeth to come in, usually between ages 17 and 25.
And therein lies the problem with wisdom teeth: Many times, they're coming in late on a jaw already crowded with teeth. Their eruption can cause these other teeth to move out of normal alignment, or the wisdom teeth themselves may not fully erupt and remain fully or partially within the gums (a condition called impaction). All of this can have a ripple effect, decreasing dental function and increasing disease risk.
As Kylie Jenner has just experienced, they're often removed when problems with bite or instances of diseases like tooth decay or gum disease begin to show. But not just when problems show: It's also been a common practice to remove them earlier in a kind of "preemptive strike" against dental dysfunction. But this practice of early wisdom teeth extraction has its critics. The main contention is that early extractions aren't really necessary from a medical or dental standpoint, and so patients are unduly exposed to surgical risks. Although negative outcomes are very rare, any surgical procedure carries some risk.
Over the last few years, a kind of middle ground consensus has developed among dentists on how to deal with wisdom teeth in younger patients. What has emerged is a "watch and wait" approach: Don't advise extraction unless there is clear evidence of developing problems. Instead, continue to monitor a young patient's dental development to see that it's progressing normally.
Taking this approach can lead to fewer early wisdom teeth extractions, which are postponed to a later time or even indefinitely. The key is to always do what's best for a patient's current development and future dental health.
Still, removing wisdom teeth remains a sound practice when necessary. Whether for a high school or college student or the CEO of a large company, wisdom teeth extraction can boost overall dental health and development.
If you would like more information about wisdom teeth and their impact on dental health, please contact us or schedule a consultation. To learn more, read the Dear Doctor magazine article "Wisdom Teeth: To Be or Not to Be?"
By Hoffmaster Dental
January 07, 2021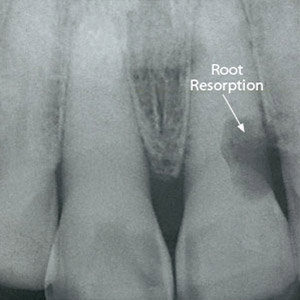 Most dental problems are caused by tooth decay or periodontal (gum) disease, easily preventable with dedicated daily hygiene and regular dental care.  But there are a few other rare conditions to be on alert for that could pose just as serious a threat to your dental health.
One of these is a phenomenon called root resorption. Put simply, certain cells arise within a tooth root that eat away and dissolve (resorb) tooth structure. Left unchecked, it could eventually lead to the tooth's demise.
Although its exact cause remains elusive, we suspect root resorption is associated with trauma to the gum ligaments earlier in life, perhaps from an injury or too much force applied during orthodontics. Other possible contributing factors include teeth-grinding habits or internal tooth bleaching procedures.
Root resorption in adults isn't that common, so your chances of experiencing it are low. But it is still possible, so you should be on the lookout for potential signs: Early on, it may appear as faint pink spots on teeth where the enamel has filled with the destructive cells eating away at the tooth. In time, these spots can increase to form cavities.
More than likely, though, your dentist may detect the problem during a dental exam. That's why regular dental cleanings and checkups are essential—a routine exam is a prime opportunity to uncover conditions like root resorption that silently undermine your teeth.
If found early, we can often treat root resorption effectively. We can often expose a small affected area with minor gum surgery, remove the harmful cells and fill any cavities with a tooth-colored filling. In some cases, we may recommend orthodontics beforehand to encourage a buildup of bone around the root by moving the affected tooth outward from the jawbone. If the resorption has affected the tooth pulp, you may also need a root canal treatment.
There is also the possibility with advanced resorption that the best course of action is to remove the tooth and replace it with a dental implant. So, keep up your regular dental visits—early detection and intervention can stop this destructive dental condition from destroying your tooth.
If you would like more information on root resorption, please contact us or schedule an appointment for a consultation. You can also learn more about this topic by reading the Dear Doctor magazine article "Root Resorption: An Unusual Phenomenon."