My Blog
Posts for tag: tmj disorders
By Hoffmaster Dental
June 07, 2019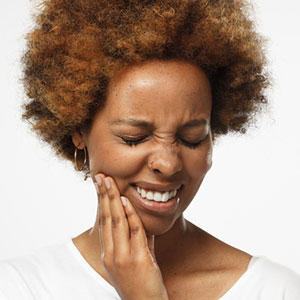 If you have chronic jaw pain, you may be one of an estimated 10 million Americans suffering from temporomandibular joint disorders (TMD). If so, it's quite possible you're also coping with other health conditions.
TMD is an umbrella term for disorders affecting the temporomandibular (jaw) joints, muscles and adjoining tissues. The most common symptoms are limited jaw function and severe pain. Determining the causes for these disorders can be difficult, but trauma, bite or dental problems, stress and teeth clenching habits seem to be the top factors. Women of childbearing age are most susceptible to these disorders.
In recent years we've also learned that many people with TMD also experience other conditions. In a recent survey of TMD patients, two-thirds reported having three or more other health conditions, the most frequent being fibromyalgia, chronic fatigue syndrome, rheumatoid arthritis or chronic headaches. Researchers are actively exploring if any systemic connections exist between TMD and these other conditions, and how these connections might affect treatment changes and advances for all of them including TMD.
In the meantime, there remain two basic approaches for treating TMD symptoms. The most aggressive and invasive approach is to surgically correct perceived defects in the jaw structure. Unfortunately, the results from this approach have been mixed in their effectiveness, with some patients even reporting worse symptoms afterward.
The more conservative approach is to treat TMD orthopedically, like other joint problems. These less invasive techniques include the use of moist heat or ice to reduce swelling, physical therapy and medication to relieve pain or reduce muscle spasming. Patients are also encouraged to adopt softer diets with foods that are easier to chew. And dentists can also provide custom-fitted bite guards to help ease the stress on the joints and muscles as well as reduce any teeth grinding habits.
As we learn more about TMD and its relationship to other health conditions, we hope to improve diagnosis and treatment. Until then, most dentists and physicians recommend TMD patients try the more conservative treatments first, and only consider surgery if this proves unsatisfactory. It may take some trial and error, but there are ways now to ease the discomfort of TMD.
If you would like more information on the causes and treatments of TMD, please contact us or schedule an appointment for a consultation. You can also learn more about this topic by reading the Dear Doctor magazine article "Chronic Jaw Pain and Associated Conditions."
By Bowser Dental Arts
January 16, 2017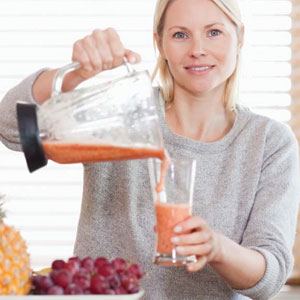 Eating is one of the pleasures — and necessities — of life, but people who suffer from temporomandibular joint disorders (TMD) may find eating no pleasure at all — and they may not be eating the right nutritional balance of foods.
TMD is a collection of conditions that affect the jaw joints, connecting muscles and other related facial structures. If you've been diagnosed with TMD, you're probably not only acquainted with severe pain, but also difficulty opening your jaw as widely as normal. This can make it difficult to chew certain foods.
There are a number of effective treatments for TMD, including thermal therapy (hot or cold packs), joint exercise, medication or surgery (as a last resort). But these treatments often take time to make a noticeable difference. In the meantime, you may still need to change what and how you eat to ensure you're getting the nutrients your body needs.
The overall strategy should be to soften and reduce the chewing size of your food. With fruits and vegetables, you'll want to peel and discard any hard or chewy skins, and then chop the fruit flesh into smaller pieces. Steam or cook vegetables like greens, broccoli or cauliflower until they're soft and then chop them into smaller portions. You might also consider pureeing your fruit (and some vegetables) to make smoothies with ice, milk or yogurt, or vegetable-based soups.
Treat meat, poultry or seafood in much the same way, especially biting sizes. Besides cooking meats to tenderness, include moisteners like broths, gravies or brazing liquids to further make them easier to chew.
Dairy foods are an important source of nutrition: eat milk-based products like yogurt or cheese as much as you can handle. If you have problems with these or also nut butters, then consider meal replacement beverages like instant breakfast or whey protein beverages.
And don't forget whole grains. Although some can be hard to chew, you can prepare them in hot cereal form (like oatmeal) to tenderize them. You can also prepare thin bread toast and cut into smaller pieces.
Hopefully, your treatment will bring your TMD symptoms under manageable control. Until then (and after, if need be) adjust your diet to eat the foods that keep you healthy.
If you would like more information on maintaining a healthy diet with TMD, please contact us or schedule an appointment for a consultation.