Dental Implants York, PA

Dental Implants & Smile Restoration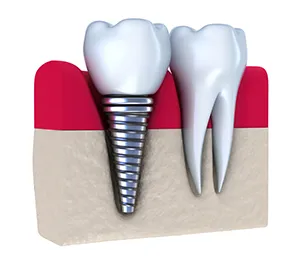 A dental implant is a dental prosthetic. Just like a real tooth, it has a root and crown and helps retain the natural size and density of the patient's gum tissue and jaw bone (
View Example
). The root resembles a screw and is made from titanium, a naturally-occurring metal that encourages bonding with human bone. The bonding process is called osseointegration, and this process makes dental implants second to none in terms of longevity and function.
The dental implant holds an extension piece called an abutment and also a beautiful porcelain crown. Versatile and lifelike, dental implants can support partial or full dentures that are either removable or permanently placed.
You can replace a single tooth, multiple teeth or all your teeth with implants (
View Examples
). You don't even need one implant for every missing tooth. As few as two implants can support a removable lower denture, while as few as four implants can provide a full, permanent set of top or bottom teeth.
Dental Implant Surgery
After determining that a patient has good oral and overall health, as well as sufficient bone to accept an implant, Dr. Hoffmaster performs a simple in-office surgery to secure the device. Usually using just local anesthesia to numb the area, Dr. Hoffmaster incises the gums and drills a small hole into the jaw bone at the implant site.
He screws the device in place, making it flush with the bone. He sutures the area closed and sends the patient home for a period of healing. Usually, dental implant surgery has a second stage--placement of the abutment and crown. However, sometimes the York dentist places the abutment right along with the implant device. Dr. Hoffmaster determines the kind of surgery necessary based on patient need.
Additionally, some patients require bone grafting treatment before implant placement. Use of donor bone or bone paste ensures the strength and size of the area before dental implant surgery.
The Academy of Osseointegration , made up of experts on how human bone melds with titanium implants, says that more than 90 percent of dental implant surgeries are successful. Furthermore, more than 90 percent of dental implants stay in place for decades. Contrast this with traditional dentures or bridgework which have typical lifespans of about 10 years.
Caring for Dental Implants
Dental implants require exactly the same care as natural teeth: daily brushing and flossing, along with regular dental checkups and professional cleanings. Although implant teeth will never decay, the gum tissues around them can become inflamed or infected in the absence of good oral hygiene. Properly cared-for dental implants should last a lifetime.
Am I A Candidate For Dental Implants?
There's a good chance that you are, but this can only be determined after a complete oral examination by our York dentist that includes x-rays of your jaws. Please schedule a consultation to begin the exciting process of restoring your smile and bite.


Do you need dental implants or would like to learn more?
Then call (717) 846-9428 today for more information!